Vacuum handling,
50 years of experience
Some achievements
overview of some of our latest installations
This gantry robot allows to infeed a cnc router and outfeed the woods to store them quickly in 12 positions.
This gripper designed with zoning release wrapped products according to the desired palletization schemes.
These grippers with side bolster system have been integrated into an existing machine to replace suction cups.
This stacker, controlled by radio control or automatically, measures boards, stacks them at different locations according to their size and gives an accurate cubing of the packages made.
Replacement of suction cups by a single gripper able to handle all product formats without tool change. The downtime of production was reduced by 20% thanks to this solution.
This Stacker controlled by radio, allowsthe operator to quickly and easily remove and sort boards avoiding personal health and injury risks.
MEDIA LIBRARY
discover Joulin's solutions in images and videos
Joulin Media Libray
Discover how Joulin, inventor of the foam vacuum gripper, allows you to optimize your production through these examples.
FOAM & ACCESSORIES
all after-sales service ... with Joulin's quality!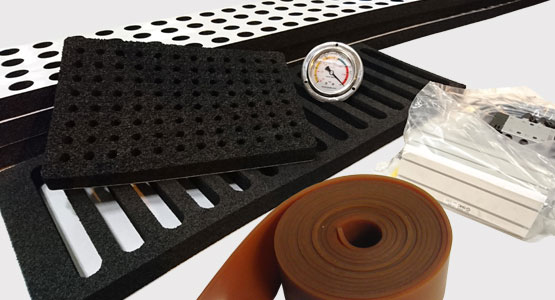 Spare parts
For each gantry robot or vacuum gripper we stock all the spare parts and foams you need to maintain it.