For each Joulin gripper or gantry robot, we stock all the spare parts (wear and maintenance) you need to maintain it. Below is a non-exhaustive list of the most common accessories.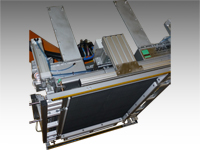 Bolster
Help to support or relocate products to be lifted up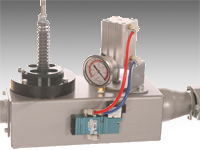 Blower module
Includes vacuum control and pneumatical shuttle valve
Attached to the turbine with safety vacuum valve and breathing cylinder included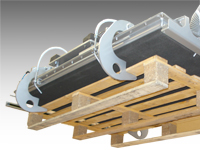 Clamp
Extra mechanical or cups grippers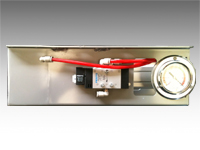 Pick-up module
Pneumatical big diameter shuttle valve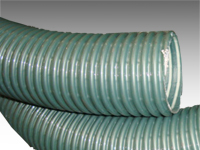 Hose
From Ø40 to Ø80mm
Heat resistant available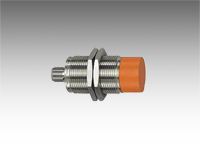 Switches
Fieldbus or switches to mount on or in the gripper.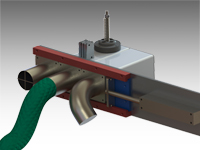 Flow reverser
Includes vacuum control and pneumatical shuttle valve
Designed for all Elmo Riestschle vacuum generator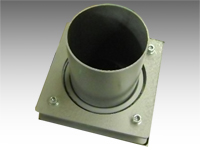 Rotating connections
From Ø40 to Ø80mm
Available in steel or aluminum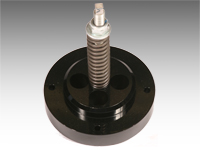 Vacuum control
Safety valve for electrical blower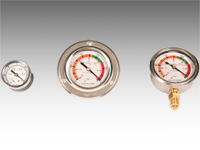 Vacuum gauges
Digital or standard gauges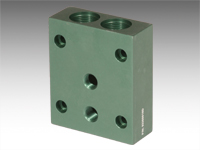 Cartridge manifolds
To get a ejectors pump (venturi)
Available for single or multiple ejector(s)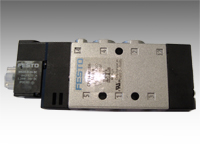 Electrovalves
All pneumatical equipment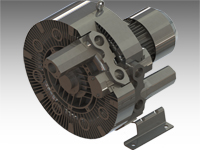 VB 330
Maximum flow rate : 170 m³/h (100.1 scfm)
Maximum vacuum : -450 mBar
Power : 3.3 kw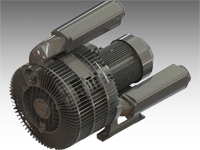 VB 750
Maximum flow rate : 520 m³/h (306.2 scfm)
Maximum vacuum : -450 mBar
Power : 7.5 kw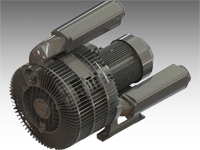 VB 1100
Maximum flow rate : 720 m³/h (420 scfm)
Maximum vacuum : -550 mBar
Power : 11 kw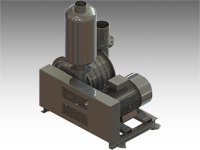 VB 1500
Maximum flow rate : 740 m³/h (435.8 scfm)
Maximum vacuum : -450 mBar
Power : 15 kw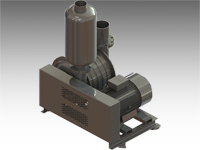 VB 3700
Maximum flow rate : 1800 m³/h (1059.9 scfm)
Maximum vacuum : -450 mBar
Power : 37 kw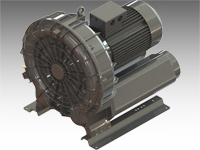 VB 430
Maximum flow rate : 320 m³/h (188.4 scfm)
Maximum vacuum : -450 mBar
Power : 4.3 kw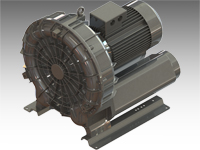 VB 710
Maximum flow rate : 740 m³/h (435.8 scfm)
Maximum vacuum : -300 mBar
Power : 7.5 kw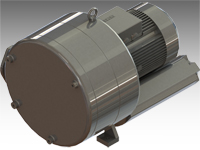 VB 1650
Maximum flow rate : 1100 m³/h (647.7 scfm)
Maximum vacuum : -400 mBar
Power : 16.5 kw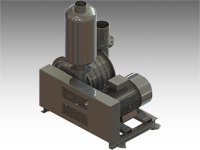 VB 2200
Maximum flow rate : 1450 m³/h (853.8 scfm)
Maximum vacuum : -450 mBar
Power : 22 kw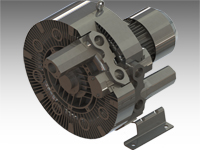 VB 380
Maximum flow rate : 119.5 scfm (203 m³/h)
Maximum vacuum : -13.3 InHg (-450 mBar)
Power : 3.8 kw (5.1 HP)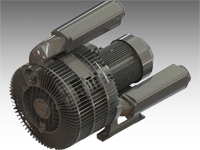 VB 860
Maximum flow rate : 365.1 scfm (620m³/h)
Maximum vacuum : -13.3 InHg (-450 mBar)
Power : 12.6 kw (16.9 HP)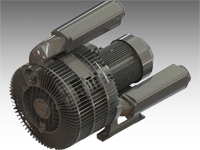 VB 1260
Maximum flow rate : 494.6 scfm (840 m³/h)
Maximum vacuum : -16.2 InHg (-550 mBar)
Power : 12.6 kw (16.9 HP)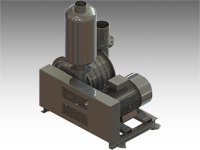 VB 1800
Maximum flow rate : 435.8 scfm (740 m³/h)
Maximum vacuum : -13.3 InHg (-450 mBar)
Power : 18 kw (24.1 HP)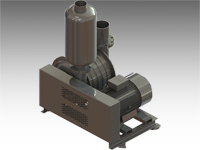 VB 4300
Maximum flow rate : 1059.9 scfm (1800 m³/h)
Maximum vacuum : -13.3 InHg (-450 mBar)
Power : 43 kw (57.7 HP)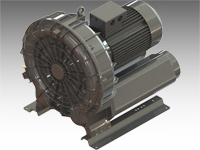 VB 480
Maximum flow rate : 226.7 scfm (385 m³/h)
Maximum vacuum : -13.3 InHg (-450 mBar)
Power : 4.8 kw (6.4 HP)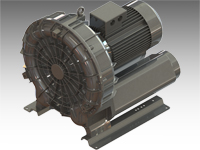 VB 710
Maximum flow rate : 518.2 scfm (880 m³/h)
Maximum vacuum : -8.9 InHg (-300 mBar)
Power : 9 kw (12.1 HP)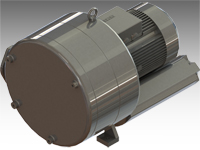 VB 1900
Maximum flow rate : 783.1 scfm (1330 m³/h)
Maximum vacuum : -13.3 InHg (-450 mBar)
Power : 23 kw (30.8 HP)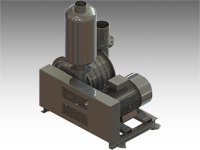 VB 2500
Maximum flow rate : 853.8 scfm (1450 m³/h)
Maximum vacuum : -13.3 InHg (-450 mBar)
Power : 25 kw (33.5 HP)
Available on request:
• Flow reverser
• Release Box
• Additional silencer
• Sound enclosure