LUMBER GRIPPER - FOAM GRIPPER
ALL INDUSTRIES - STANDARD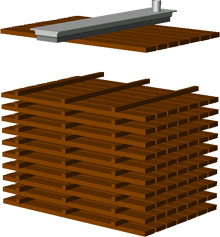 CONCEPT
Unique design
Worldwide leader in the wood industry
Foam pattern to fit your application
Uneven surfaces
Gripping power remains constant with single parts or entire layers
BENEFITS
Saving up to 50% of energy with the Wave System™ (internal check valves)
Easy and quick foam change
Low maintenance
Not sensitive to dust
No filter required
EASY TO CUSTOMIZE
Easy and inexpensive to manufacture to fit your needs
Many options available
Adjustable lifting capacity with different check valves
Complete frame to support the grippers
Quick delivery time
THE 3 STEPS FOR A GOOD INSTALLATION


First; position of the gripper:

The number of grippers depends on position and length of the boards

Second; what kind of gripper to use:
Each lumber industry has his own specifications
There are different internal and external designs to fit with each needs:
External: The bodies of the grippers are made with different materials and design to fit with the working environment

Flush: The most common one. Available in steel or aluminum
Pan: Recommanded in the sawmills or pallet industries or where extreme conditions exist. The perimeter flange provides are very strong and safe design in case of collision

Internal: All are equiped with the Joulin Wave System™ for energy savings and non sensitivity to dust or moisture
Third; lifting capacity:
Once we know the lumber specifications, we will choose the number of grippers and design
Different foam materials patterns and holes sizes are available
What is the Grade?
Industrial: Rough lumber or panels
Severe: Heavy dust present
Extreme: Extra heavy duty design for oversize beams or extreme installation conditions
• Flow reverser for quick release (light products, slip sheets)
• Blow off (light products, slip sheets)
• Flat, raised or flexible attachments
• Ejectors (venturi)
• Complete frame to support the grippers
Labeling
LG-

VG-

252

-P21

-N1200

Range
of the gripper


Technology :


- VG = Valve Gripper
- PG = Port Gripper

Version :


- 616
- 441
- 252
- 99
- 29
- 27

Pitch :


- P15 = 15 mm
- P21 = 21 mm
- P40 = 40 mm
- P45 = 45 mm
- P50 = 50 mm
Foam Nominal
(width of the layer) :
- N1200
- N1300
- N1400
- N1500
- N1600
- etc, ...
Exemple : LG-VG441-P21-N1800
Préhenseur Lumber Gripper VG441, pas de 21 mm, nominal de la mousse 1800